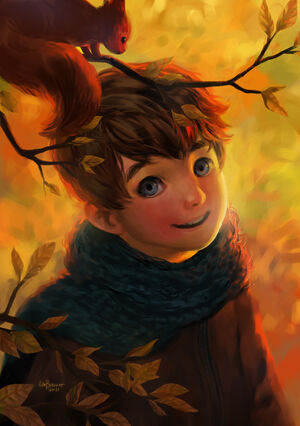 Bernard "Bernie" Foster is a twelve year old son of Lettie and Hugh Foster.
He is their youngest, born an accident, but the most beautiful of all children. The oldest, Samuel, is 22 and is married. The second, Milly, is 19 and is almost always in bed with influenza, which leaves Bernie. Perfect, born with no imperfections.
He is a sweet child, respectful and innocent, but very afraid. He will flinch at the slightest of movement. He is funny in an innocent way, and never fails to make someone feel better about themselves.
Bernie loves nature. He loves animals, and climbing trees; to enjoy his solitude. Once, he stayed in a tree fo three days straight, sending his parents in major worry.
He has beautiful gold hair, and bright blue eyes. He has rosy skin and is described as cute.
Ad blocker interference detected!
Wikia is a free-to-use site that makes money from advertising. We have a modified experience for viewers using ad blockers

Wikia is not accessible if you've made further modifications. Remove the custom ad blocker rule(s) and the page will load as expected.