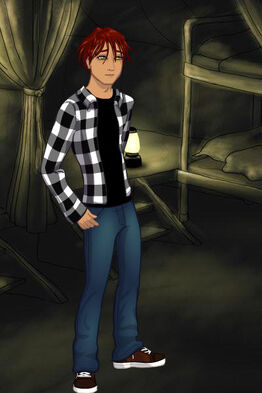 Noah and his twin brother Carlos were born on April 21 in District 11 his full name is Noah, Kolbsen, Arthur, Johnson II. Noah is the youngest of 3. Noah had a strong bond with his father Daniel. When Noah was 11 his father died of a new type cancer after he died his family went poor struggled with everything. When Noah turned 12 he asked the best archer in the District if she could train him in archery so he can kill animals and sell them to the store and she accepted. when Noah was 14 he was a very, very skilled Archer but not the best yet. At the moment Noah's mother and sister are still trying to find jobs
Noah is the son of Daniel and Ariana Johnson. He has a twin brother named Carlos Johnson and he has an older sister named Anna Johnson
Personality
Edit
Noah is a very curious person he wants to know alot of things like the meaning of life and why people have so much hate in the world but because of his father's death he hides it with humor and fun. He's also going through the stage where he is too scared to talk to girls his age.
Word Bubble
Edit
Ad blocker interference detected!
Wikia is a free-to-use site that makes money from advertising. We have a modified experience for viewers using ad blockers

Wikia is not accessible if you've made further modifications. Remove the custom ad blocker rule(s) and the page will load as expected.